Urban Town
The first two threads on this sort of staying alive theme concentrated on the open road, they looked at a bit of visual technique and, well, not wishing to contradict the order of the safety, system, smoothness, speed thing, but, well ways to help us ride a bit quicker! Now let's slow it down a bit, look at a bit of urban stuff, and we'll also look at a few common accidents and how we can avoid them.
Let's all agree at this point, that there's urban in general, and then there's riding in London. Ride a busy South Circular at half past five on a Thursday evening and you can chuck the guide book out the window. So we'll stick to the average city.
The common denominator in the open road threads was vision. Everything we did, every position we adopted, was the result of what we'd seen. Urban riding is not much different. Keeping good vision and understanding how and why we miss things, and how other road users miss us, is key. It goes back to that Take Use Give stuff again.
In town (in fact in most speed limits, even 50's) I tend to sit at 2/3's - pretty much the offside wheel track of a car infront. The advantage for me is that you can see more of the road ahead, the car drivers see you in their rear view and their wing mirror (many vans and the like will have no rear view), you have an escape route, you can filter easily and pick off the odd car here and there.
Look how visible all the brake lights are, my view of the road ahead and how easy it is to wax and wane, into and out of filtering, I have a good lateral view if there are pavements, I'm away from side roads.... Probably my only disadvantage is that I'm leaving my nearside quite exposed. So I keep half an eye in my neaside mirror and shut the door if I need to. I can't think of a time when I would deliberately sit looking straight at someody's number plate.
Even here I can make out the red light at the Ped-X and the lorry driver can see me.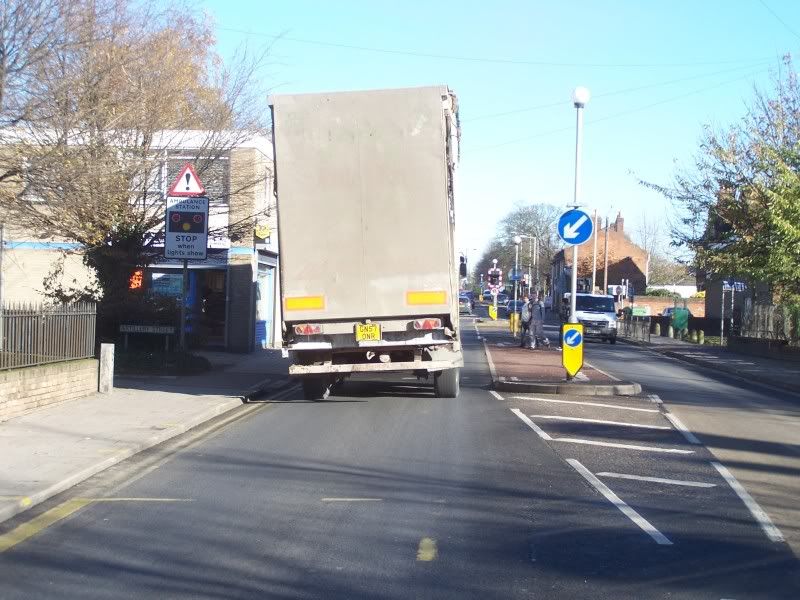 The paradox of making progress is that sometimes you have to ride slow to ride quick. Some times you have to hold back to see in order to give it a tickle when it's safe. In deepest darkest space, there are black holes. Get anywhere near one and it'll suck you in. Captain Kirk keeps the Enterprise well away from black holes, and recognises when he's approaching one. When we ride in town, our biggest error is probably getting sucked into the back of traffic and, psychologically, once we're sucked in, there's something very difficult about shutting the throttle, slowing right down and allowing traffic in front of you to pull away so you can drop back and reclaim your vision. Once you've got sucked in to a black hole you tend to get stuck there.
By not getting sucked in here, look how much I see before making a decision.Wait and see how it develops? Trickle through at 3 mph? It doesn't matter. What would matter, would be if I was 2 feet from the Kia's index plate.
A lot of our riding plans, urban or rural, are based on 'what can you see, what can't you see what might you reasonably expect to develop'. In town your biggest risk of an accident comes from things you can't see; hidden junctions, traffic you haven't seen, unexpected manouvers from cars who haven't seen you. In the picture below, look at what you can't see here, not what you can. (Although the 6" of black bumper helps...!) Take away the Ped X and start filtering down the outside of the taxi. The white enterprise van has hiden the junction, now you're off side of the taxi and he is hiding the black car, the black car is flashed out .... Accident. Cure? 3 seconds ago I should have asked myself what can't I see behind either of the white vans.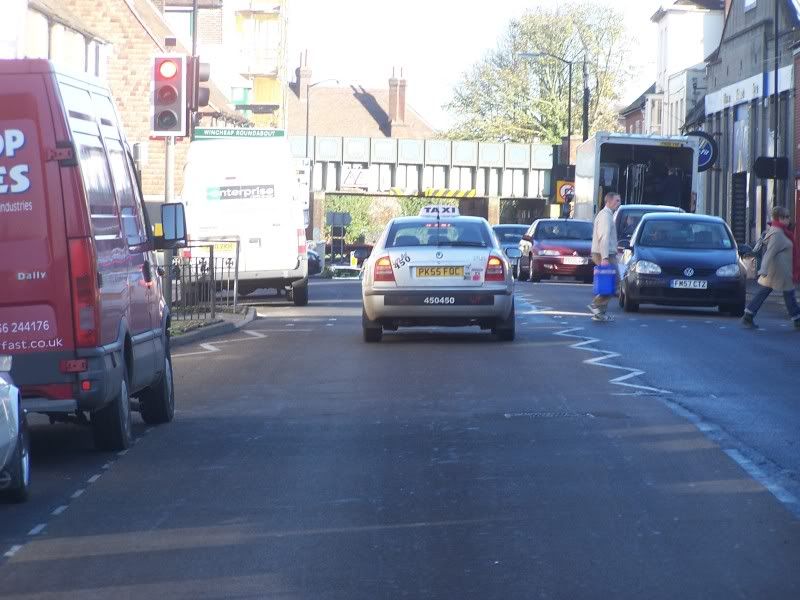 In the eighties I was dispatching in town. I had a kawasaki GT550 with a big barn door fairing on the front. One fateful day it was raining, people were rushing, and I was filtering past traffic coming down the Cornhill towards the Bank of England. I was passing a double decker bus in the stationary queue and an old gent walked straight out from the front of the bus into my path. He appeared, with the back of his head towards me, looking at the traffic coming the other way. I remember shouting out loud, not even having time to hit my horn. I hit him at about 20mph, and we both went sprawling. He was carted off in an ambulance, his leg broken and visibly swelling by the second. I had to stop myself from throwing up.
The police dismissed it, laid the blame with the pedestrian for not looking and I never heard another thing. Was it the old guys fault? I was young and lacked experience, and made a classic error of riding to what I could see, and not even giving a second thought to what I couldn't.
When riding in town, constantly evaluate what you see, asking yourself what you can't see, and who or what is lurking out of sight.
Learn that phrase off by heart. 'What can I see, What can't I see, What might I reasonably expect to develop'.
Bike control
This is basic stuff! Sorry! (Take it or leave it!)
Modern bikes (even the little pass yer test bikes) have good brakes. Years ago, many of us were taught to brake with four fingers. Brakes were spongy, single discs, single pots .... we needed all the help we could get. Now days, two fingers is fine.
You can not control a bike well in slow traffic with fingers covering your front brake. I see it all the time! Fist your throttle and get your fingers off your front brake lever when you're not using it. Squeeze it with two when you need it, then wrap your fingers back on your throttle. If you constantly cover your front brake lever as you ride, your throttle control will be pants, and if you get spooked, you'll grab it before you've even thought about it and if you're turning, manouvering, changing lanes and slightly lent over, you'll be on your backside, in the blink of a eye.
This guy is fisting his throttle, and only braking in the tight technical sections with his rear brake.
<object style="height: 390px; width: 640px"><param name="movie" value="http://www.youtube.com/v/OcANEq_9eYk?version=3"><param name="allowFullScreen" value="true"><param name="allowScriptAccess" value="always"><embed src="http://www.youtube.com/v/OcANEq_9eYk?version=3" type="application/x-shockwave-flash" allowfullscreen="true" allowScriptAccess="always" width="640" height="390"></object>
The root cause to the lack of confidence in town in many riders, is poor slow moving skills. And one area of that, is the transition from speed to walking pace. The nack to this transition is good braking.
The american guy on the boxer needs both brakes when he rides into the little technical section at 30mph. Check out the Japanese guys, below. No difference; fisting the throttle in the slow stuff, back brake in the technical stuff, both brakes in the stop boxes.
<object style="height: 390px; width: 640px"><param name="movie" value="http://www.youtube.com/v/bWaq0zOaAVU?version=3"><param name="allowFullScreen" value="true"><param name="allowScriptAccess" value="always"><embed src="http://www.youtube.com/v/bWaq0zOaAVU?version=3" type="application/x-shockwave-flash" allowfullscreen="true" allowScriptAccess="always" width="640" height="390"></object>
So, I'm in town and approaching slow moving traffic, this is the drill. At my 30 mph or whatever I'm doing, use
both
brakes to get your speed down to walking pace, then come off your front, fist your throttle, but
carry on braking on your rear
as you make the transition into throttle / clutch / back brake.
Get this drill slick, you can approach the back of slow stuff, in the right position, with a good view, then you can smoothly (Like the yank, not the Jap!!) 20mph... 3 mph... 20mph... 3 mph .....
A Posts
The A post (window pillar) in a car is a pretty crucial part of its structure; its failing in a collision is a major contribution to front seat driver / passenger head injuries. The modern A post has got stronger and stronger as manufacturers have strived to score well in what they call 'secondary safety', (occupant safety) but as a result, 'primary safety' (avoiding the accident in the first place) has suffered. Research has shown that as A posts have got stronger, they've also got bulkier, and as a result there has also been an increase in offside accidents, especially at junctions. Not good news for us bikers.
The modern A post can create significant blind spots for drivers.The typical blind spot accident scenario that could involve us, will be our self and another vehicle moving towards each other at the same time, probably approaching a junction, and at that, probably on some sort of a curved path. A roundabout would be an ideal scenario: As the car approaches the roundabout, if the circumstances are right, we the motorcyclist, already on the roundabout, can sit in that A post blind spot which then sort of locks on to us, tracking our movement, and making us completely invisible right up to impact.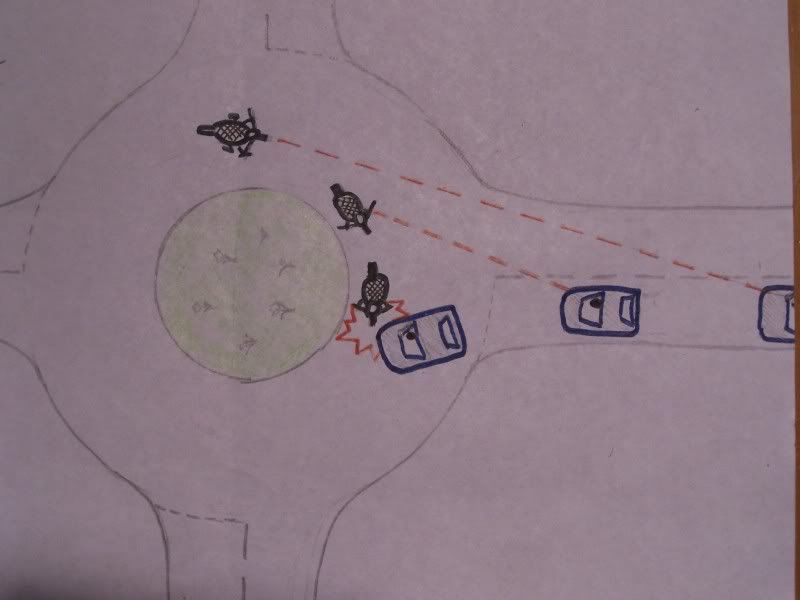 The sting in the tail is that because we're busy leaning the bike over, our attention is often focused, rightly so, on where we want to go, and it's easy for us to be completely unaware that something is pulling out at the very last second. Both drivers are as blind as each other.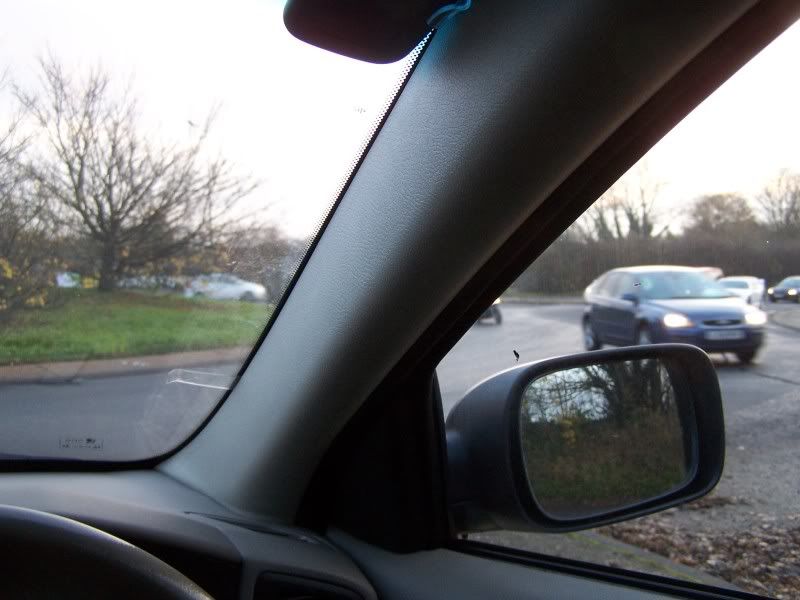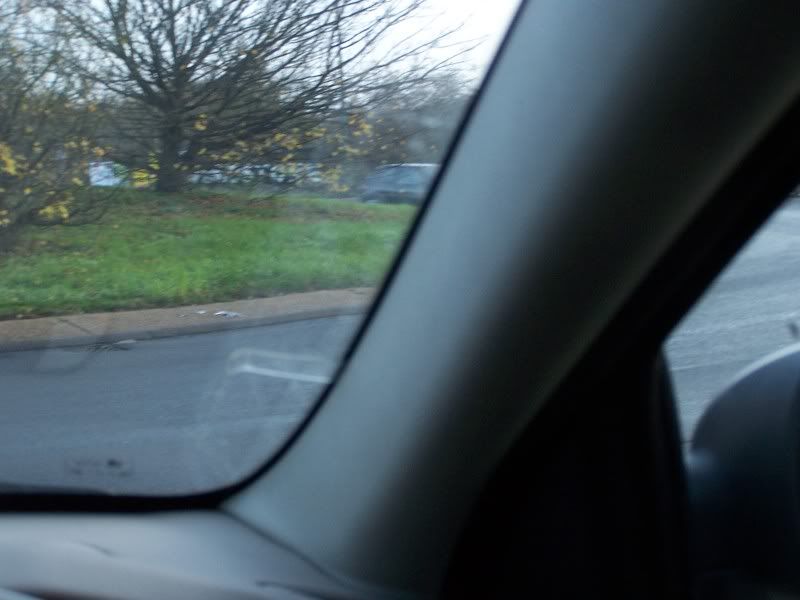 No idea who this is! But thank you very much!
No hard and fast cures to this one. Just try and be aware of cars approaching all your exits. The stationary cars are more likely to have see you. Alarm bells should ring in your head when you spot traffic approaching the roundabout as you are.
Motion camouflage.
A couple of years ago Bike magazine wrote a good article on motion camouflage. So they take the credit! This is the theory..
If you watch a hover fly or a dragon fly, they often move in a mysterious way! They fly perfectly still, hovering, then they abruptly change course a few inches, and hover again. they move in this jerk / still / jerk way. They are hunting, and they're honing in on their prey. As their prey moves, they move, they keep themselves in the same place against they're background, making it hard for the prey to detect its movement. As they do this, they fly towards their prey in a dead straight line. It's not until they're almost on top of their prey, that they 'loom' into view. But by then it's all too late. Munch!!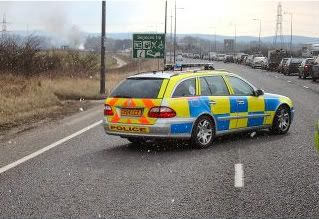 Ever wondered why emergency vehicles 'fend off' at the scene of an accident on a fast moving road? Arguably, the rear emergency lights are most effective square on, so you would think that by parking in a dead straight line, you would see the rear reds / blues more clearly, and that would be safer. Not so! There are a couple of other benefits to fending off, but the biggest benefit, is that by clearly showing the side on profile of the fend off vehicle, drivers approaching at speed, can instantly tell that it's a stationary vehicle, in a live lane.
Its also common knowledge that when we're travelling on a main road, and we spot a car in a side road waiting to pull out, looking at the wheels (rotating or not) will detect movement much more efficiently than looking at the car itself.
So you get the jist of this idea, it's all to do with how we perceive motion, and if we reverse the prey / hunter role-play we can unexpectedly become the hoverfly and move invisibly along our road.
As we ride down a main road, if the circumstances are right like our back drop and the angle of the main road to an approaching side road, we can find our selves riding on a straight line that extends from a fixed point behind us directly into the eye of a waiting driver in a side road ahead. Our bike will appear motionless, and will not appear to increase in size until the very last second. The driver in the side road is searching for movement on the road, objects moving against a background, and when we're on this straight line path, the car driver may quite simply, just not see us.
This accident is particularly relevant in town. Our eyes tune into our environment and start looking for regular themes. A good example is dusk on the motorway. Every car has it's lights on except one. (Always metalic silver!!) We miss that car in the flow of traffic because now our eyes see headlights... head lights.... gap.... headlights....headlights.... So we change lane, move into the gap and hit the invisible car. In busy urban town, drivers, sitting in a side road, tune into movement... movement....movement.... gap..... BANG!!!
Part of the research into this theory delivers yet another sting in the tail; when the dragonfly does eventually 'loom' into view, the prey momentarily freezes - rabbit in the headlights. Likewise, a car that does pull out in front of us, will simply freeze on the spot as we reveal ourselves.
So what can we do about this one? I can't say I weave down the road trying to break up my backdrop when I see a car in a side road, but knowledge is power and it's good to know why I'm sometimes difficult to see. If I spot the nose of a car in a side road, then just once in a while, I might chose to move out,
but deliberately delay that movement until I see the driver.
Motorways.
We all use motorways from time to time, and whilst they're some of the busiest, and fastest roads we have, they're generally the safest. The problem is that when it does go wrong, the consequences can be pretty dire.
I work in Kent, where we have four separate motorways. We also have the Channel Tunnel, the Dartford River Crossing and the Port of Dover. The motorways here can be pretty hectic at times and from experience, I can tell you that most of the accidents we see, are roughly the same accident in a different guise, day after day! I'm pleased to say, that the vast majority of accidents don't involve bikes. That could be because bikes only make up about 2% of the traffic, but I also think bikers are generally more aware of their vulnerability on a motorway and tend to stay out of trouble. Most of us here will drive a car on the motorways from time to time, so we'll look at those regular accidents and see how we can avoid them. First off though, let's just cover a few basics good practises. Sorry if we're sucking eggs yet again!
When we approach a motorway, sometimes our route to the slip on will take us over the very motorway we want to join. Look at it!! You'll have a split second or so to just get a feel for the traffic. Sometimes in the right scenario, you'll be able to see half a mile or so of what you're going to meet. Look at the picture below, what's that, three lorries in lane one and a coach in lane two? By the time I turn right on the roundabout in front of me and take the slip on, there's every chance I'm going to meet that lot just as my slip merges into lane one. That's useful to know!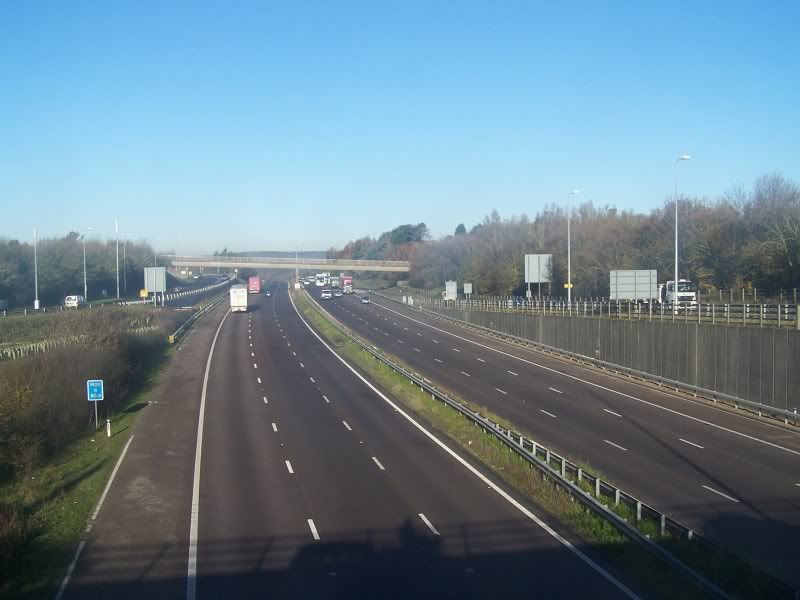 One of the greatest attributes a motorcycle has, is good acceleration. From the top of the slip if there's traffic in front of you that you can't pass, within reason let it go. I'm not saying saunter down the slip with stuff queuing up behind you, but don't get all wrapped up and involved with the vehicles in front of you – if you do, your entry on to the motorway will be dictated by them. We're far better off controlling our own destiny rather than being carried along with the traffic in front, we want to sling shot our selves onto the carriage way instantly matching our speed with the rest of the traffic, possibly (if necessary) getting straight out into the outside lane.
As you join the slip get your self right over to the off side. We're talking inches, maybe a foot away from the white line, and track that line all the way down the slip and to the point where your running parallel with lane one. (Keep half an eye in your nearside mirror – you're leaving yourself very exposed for something to come up your inside..).
By getting far over to the right and holding that line you are giving yourself the best possible view in your off side mirror, of the motorway behind you. From here, at the bottom of the slip, if you need to, (ie, if your slip has given you no view and planning) you can still sit 12" inside the now broken white line, and use your mirror to work it all out. I do this system, routine, whatever you want to call it pretty much every time I join a motorway.
At this point here, the flag has dropped. Rather than get all caught up with those two vehicles in lane one and two and box myself in, I'll fire myself out behind the blue car, straight into lane four. I've looked, it's safe and within two and a half seconds, I'll be in the outside lane and geting on with it.. Lairy?? Nope, not at all. All worked out whilst still on the slip, and
key to the whole thing
was not sitting on the silver cabriolets backside all the way down the slip.
Two or three, quick motorway tips!
Sit at either 1/3 or 2/3's. I hardly ever sit bang in the middle of my lane. Just like the urban positioning, it will give you an escape route, the car you're following will see you in their rear view and wing mirror, and you can see more tail / brake lights of the vehicles in front, which will help your planning.
Never say never and all that, but other than actually joining, I very rarely look over my shoulder on the motorway. You should be able to do it all in your mirrors. (If in doubt though and you've lost concentration ….)
Stubborn vehicles in the outside lane.
Do you baulk at undertaking? Personally I do, and I'll only do it when the nearside lane is moving faster than ….etc etc. No lecturers if you do - that's not what this is about!! If you're not an undertaker, (see what I did there), if the traffic is moderate, and there are opportunities for the vehicle in front to pull over and let you by, but they're not doing it, a top tip;
All the time they genuinely can't pull over, back off. Leave them well alone and deliberately drop back. But as the vehicle in front approaches a gap that they could genuinely pull into,
then
accelerate up to a close position, quite swiftly without being aggressive, and time it sweetly so you arrive behind them (2/3's position..) just as the nearside gap falls for them. (Timing is everything here!) It shows polite patience when they can't, but your mild frustration and hopeful intention when they can! Done well it works a treat and you can make great progress on a moderately busy motorway legally!!
Passing Junctions
Are you staying on the motorway but there's a slip off approaching? More often than not, a slip off is followed by a slip on. Consider moving out to lane three now? If there's nothing behind barrelling down in the outside lane you might save your self a bit of work in 500 yards time.
A couple of classic accidents.
I tell you no lies. Traffic cops in Kent go to one of these every day!! (Gateway to Europe and all that …)
<object style="height: 390px; width: 640px"><param name="movie" value="http://www.youtube.com/v/V1LM8TtSLZ0?version=3"><param name="allowFullScreen" value="true"><param name="allowScriptAccess" value="always"><embed src="http://www.youtube.com/v/V1LM8TtSLZ0?version=3" type="application/x-shockwave-flash" allowfullscreen="true" allowScriptAccess="always" width="640" height="390"></object>
That video, has a bit of a twist – both vehicles are gunning for the middle lane at once. The classic scenario is even simpler; Car in the middle lane, almost but not quite past a foreign lorry, lorry doesn't know it's there, and pulls out into lane two.
Meet Nikko! (on the right).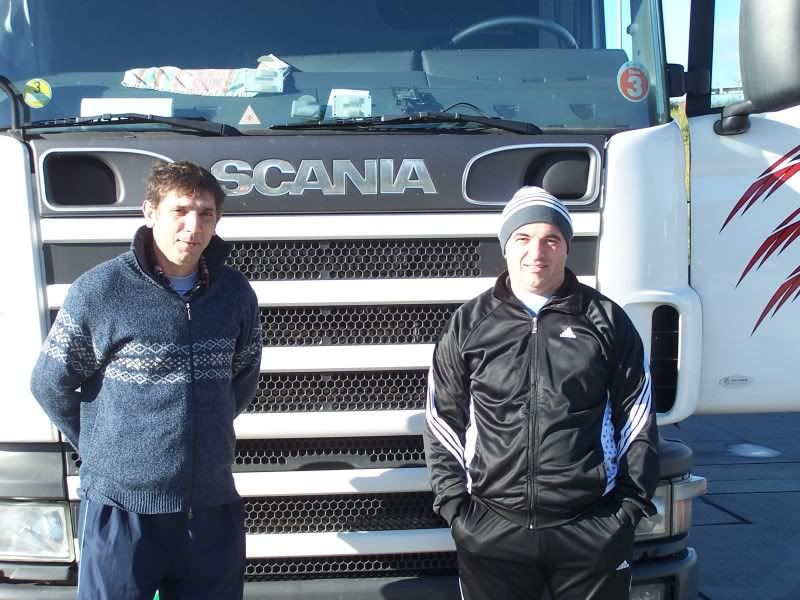 He's kindly, lent us his cab, he's a nice bloke from Romania and I promise he doesn't drive like this ..
<object style="height: 390px; width: 640px"><param name="movie" value="http://www.youtube.com/v/09iYwigkbSs?version=3"><param name="allowFullScreen" value="true"><param name="allowScriptAccess" value="always"><embed src="http://www.youtube.com/v/09iYwigkbSs?version=3" type="application/x-shockwave-flash" allowfullscreen="true" allowScriptAccess="always" width="640" height="390"></object>
Some of you reading this may well have sat, even driven a left hooker. But many of you won't have. It would do us all a lot of good to drive one of these around the M25!! Nikko's right hand (off side) mirror, is over two metres away from him. He then has to look past about 15 metres of trailer just to see you. What he
really
struggles to see is what's sitting alongside his steering axle. (which is about 6 feet below him!)
When we go to these accidents, and pick up the pieces afterwards, the car drivers are usually incredulous, that Nikko hasn't seen them.
So, lets have a look ourselves shall we?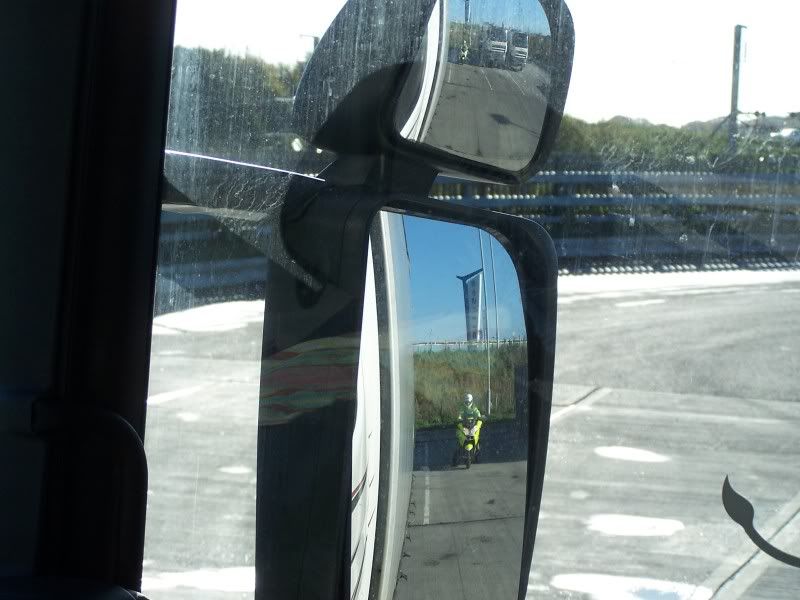 My riding partner is pretty visible. (lets not forget he's dressed like a banana, and could be all in black…).
Now lets stick him By Nikkos offside steering axle.
Ignore the co driver! Whats relevant is that there's no bike.
Nothing. He is completely invisible. What does he look like from outside….?
Wow!! 'How the hell could you miss that?' asks Joe Public!
Nikko to his credit, does have all the right mirrors.
Now we can see our biker, albeit only just, but there are plenty of lorries that don't have this, somewhat limited, extra blind spot mirror.
So, more kitschy driving school sayings;
BEAT THEM OR LEAVE THEM.
I want you to remember that phrase, EVERY TIME you pass a lorry, or approach a roundabout with them. When you're on the motorway, you are forbidden to pull alongside Nikko's lorry, unless you can completely pass him! That means you wait until the car in front of you has cleared the front of the lorry cab, before you make a point of accelerating. You don't sit along side him! Imagine he has a constant moving yellow box junction beside him that you cannot enter unless your exit is clear.
When you approach a roundabout in a duall carriageway, and nikko is on your nearside, Beat Him Or Leave Him. Don't enter the roundabout with him.
And remember, if you're on your bike and you filter past him and then sit 24" in front of him in the queue for the tollbooths, he may have absolutely no idea you're there. (Bike accident a while ago, approach to Dartford tunnel booths, broken collarbone - biker wanted the lorry driver stuck on for careless…!!!!)
* Worthy of note, is that in the infamous 'tanker pushed Clio' motorway accident, the Clio was in lane one, and the Tanker was in lane two, coming back into lane one. It's the mirror image of the foreign lorry accident. *
Multi car pile ups.
Our second most common motorway accident. Again, these rarely involve bikes, but we all drive cars … Most commonly found in the rush hour traffic on the approach to certain slip offs, queues to booths, etc.
Why? Driving way way too close, and not looking far enough ahead. If you can't see the brake/ tail lights of the car ten or so ahead of you, move!
Too close, and no view!
Even in your car, you can move just a foot, 18 inches to the right, and it'll often open up your view of your lane ahead. If one car breaks fifteen cars ahead of me, I want to know now, I can break up the mexican wave of brake lights, by coming off my throttle the moment I see it. If I have a decent distance between me and the car infront, I can also extend my braking, to allow for the car behind me.
That's it for the Urban stuff! And we've barely scratched the surface! We'll look at filtering another time and cover it in a thread on overtaking in general.